ELEM BASKETBALL: Richland would like to start early if possible. Please try to get to the Richland gym between 5pm and 5:30.
The elementary basketball games tonight at Richland have been moved up to 5:30pm.

Please be aware::: Due to flooding, buses may not be able to reach all regular pick up locations.
ELEMENTARY BASKETBALL PRACTICE SCHEDULE Feb 8: 4:30-5:45 @ Church Feb 21: 3:30-5pm @ Church Feb 22: 3:30-5pm @ Church Feb 25: 1pm-2:30 HS Gym Feb 28: 3:30-5pm @ Church GAME SCHEDULE Feb 9: @ Richland 6pm Feb 11: @ Kelly 11:30am Feb 13 vs Woodland 5pm (Home Game) Feb 27: vs Greenville 6pm (Home Game) We are still looking to add some games.
ELEM BB February Schedule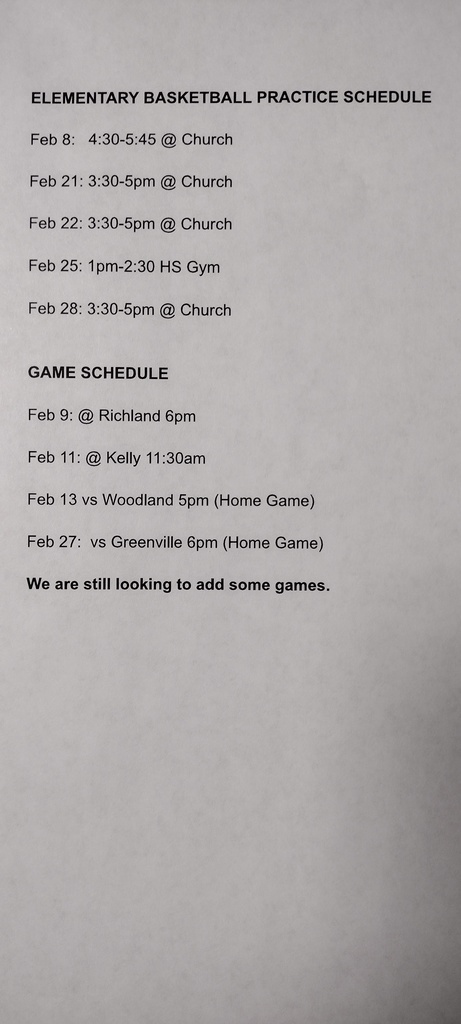 Reminder: Valentine Crush Soda-gram forms are due this THURSDAY (Feb 9th). $1/package. Send your favorite student, friends, staff, or crush a soda-gram to let them know you were thinking of them!
Elementary Basketball: Sorry for the confusion. The games are at Kelly at 11:30 NOT DELTA. Talk to your coach for more information.
Elementary Basketball practice at the church tomorrow, Feb 6th 5pm-6:30pm

School will be in session tomorrow - buses running where possible. Contact will be made if routes change.
HSBB: The MVC Tournament Scheduled to start Saturday, Feb 4th at Zalma is cancelled. Hopefully the newest and final revised schedule is as follows: Monday, Feb 6: M Heights vs Leopold 6pm. Marquand vs Zalma 7:30pm. Wednesday Feb 8: Leopold vs Marquand 6pm. Zalma vs M Heights 7:30pm. Saturday, Feb 11: Marquand vs M Heights 2pm. Leopold vs Zalma 3:30pm.
Elementary Basketball Games Tomorrow, Feb 4th, at Zalma are cancelled.
ELMBB: Woodland has cancelled the Elementary Basketball game that was scheduled for Friday, February 3rd.
8th grade is going to tour Votech Monday.
HSBB Saturday time correction: M Heights vs Leopold 2pm. Marquand vs Zalma 3:30pm
FCCLA Star Events will take place on Zoom Monday. Everyone needs to be prepared. Please email Mrs Cole if you need more information.
HSBB: MVC Tournament games for Thursday, Feb 2 and Friday, Feb 3 have been cancelled due to road conditions. The revised schedule is: Saturday, Feb 4: M Heights vs Leopold 2pm. Marquand vs Zalma 3:30pm. Monday Feb 6: Leopold vs Marquand 6pm. Zalma vs M Heights 7:30pm. Wednesday, Feb 8: Marquand vs M Heights 6pm. Leopold vs Zalma 7:30pm
HSBB: Due to weather, we had to reschedule the MVC Tournament creating a conflict. Unfortunately, Saturday at TRCC vs Van Buren is cancelled. We will try to reschedule.

No school Wednesday, January 25th.
HSBB: Due to the risk of weather and the distance Meadow Heights has to travel for tonight's game, we are going to start 1 hour early. We feel that this is what we need to do to ensure the safety of the players, coaches, officials, and fans from both schools. Tonight is Varsity only. One game starting at 5pm. Sorry for any inconvenience.

Our Little Caesars Fundraiser is going strong! In fact, you might say we go together like cheese and pepperoni! Our group earns $6 profit on every Kit we sell. We need your help to reach our goal! Big pizza eating days are just around the corner, so make sure you have Pizza Kits on hand for your celebration this year. Remember that you can also email link to your family and friends, so they don't miss out, and post on your social media pages. Shipping costs are the same for 1 Kit or 2 Kits, so stock up and help us reach our goal!
https://fundraising.littlecaesars.com/fundraisers/support/ee7baa3d-239a-4a19-91ec-9280d462801e