Games and practices for Track and Baseball have been canceled for today due to weather.

Elementary Learning Fest 2022 will be Tuesday 5:30-7:00 p.m. We will have two egg hunts (5:45 and 6:30, please attend only one), pictures with the Easter Bunny as well as projects on display in all the classrooms. Mrs. Shelby will have artwork showcased in the cafeteria.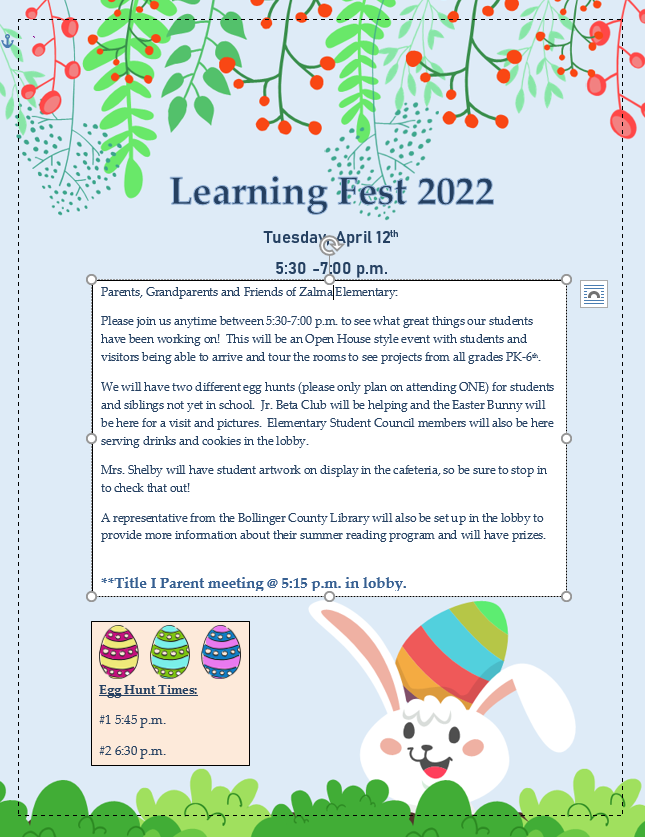 Because of the most recent storm updates, we have decided to dismiss school at 1:20 today to keep everyone safe. If you pick your child up from school and cannot make it by 1:20, please contact the office. Staff will be on campus until a parent can arrive.

Zalma Parents: We are monitoring the storms this afternoon and may need to hold the students at school a little later if we feel it's not safe to send the busses out in high winds and heavy rain. We will keep everyone updated as needed but wanted to let everyone know there may be a bus delay so that everyone can plan for that possibility. Stay safe everyone.
Vaccination consent forms were sent home last week with preschool, 6th, 7th, 10th, and 11th grade students. Bollinger County Health Department will be here April 22nd to administer vaccinations to students with a completed consent form. Vaccinations must be completed prior to kindergarten, 8th grade, and/or 12th grade entry. If you would like your child to receive immunizations at school please return consent form as soon as possible along with a copy (front & back) of insurance card.

The elementary phone lines have been repaired and are once again in service. Please call (573)722-3136 to reach the elementary office.

Due to the weather conditions, school will be dismissing today at 2:30 p.m. to help ensure that all students and staff arrive home safely.

Due to a major decline in attendance, this will be our last week for the elementary after school tutoring. Once again, this Thursday will be the last week for WonderDogs.


No school Friday

No school Thursday

Due to the impending forecast, school will be dismissing today at 1:00 p.m.

School will be dismissing today, February 17th at 1:00 p.m. due to flooding.

School will be back in session tomorrow. We will run busses where possible. Bus drivers will be contacting parents if any pick up times are affected. An updated school calendar will be sent home with students tomorrow that will show make up days for the remainder of the school year.

No School Tuesday, February 8th

Due to hazardous road conditions, school will NOT be in session Monday, February 7th.

No school Friday, FEBRUARY 4th.

School will not be in session Thursday, February 3rd.

No school Wednesday-AMI Day

FCCLA competing in Star events yesterday for Region 6. We had 8 silver medals and 2 gold medals. Kirsten won in Focus on Children and Brilee and Cambry in Repurpose and Redesign.