Parents who provided e-mail addresses on enrollment paperwork at the beginning of the year have access to their child(ren)'s online portal through TeacherEase. If you do not have access and can provide an e-mail address, please contact your child's office. We highly recommend using this system. You'll have access to grades, missing assignments, attendance, etc... A welcome e-mail will be sent to you once the information is provided with steps on how to login.

The school-provided Verizon and AT&T hotspots will no longer be working after Wednesday, Aug 31th. The emergency covid funds that allowed us to provide this service to our families is no longer being funded. Please return devices to your building offices.

Picture day is Friday, September 2, 2022. Orders may be placed online at inter-state.com/order using the code 72091JB.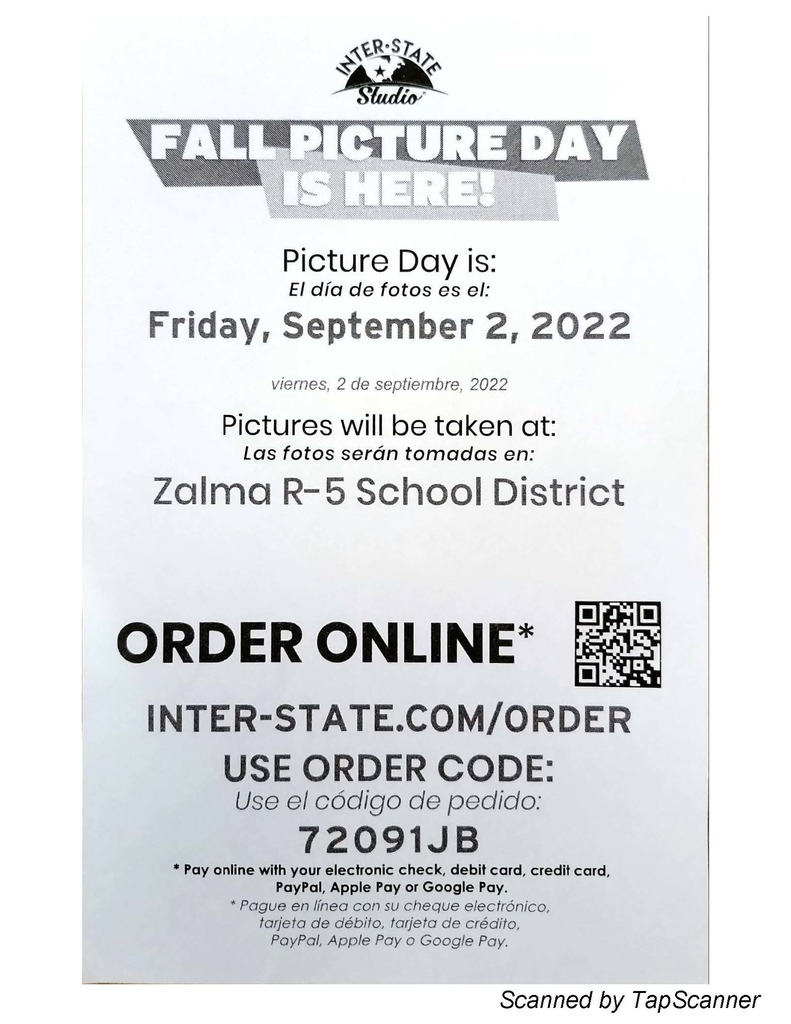 2022-2023 Student Calendar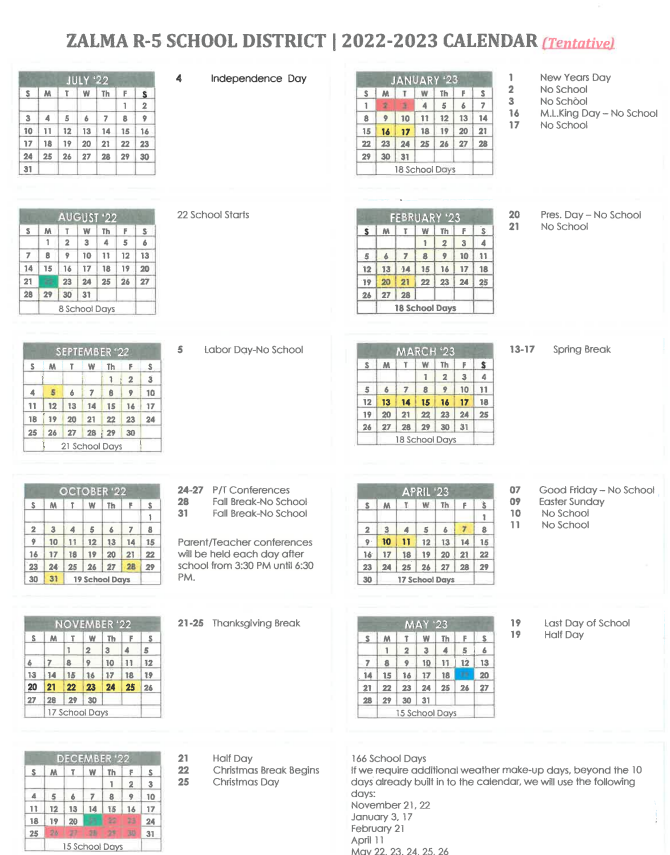 Join us for Open House Thursday, August 18th.

The school road and parking lots will be closed to EVERYONE this Saturday and Sunday due to painting/sealing. Thanks!

The 2022-2023 Elementary Supply List is now available. You can access it via Facebook, on our school website news feed or under "Documents" on our school website.
www.zalma.k12.mo.us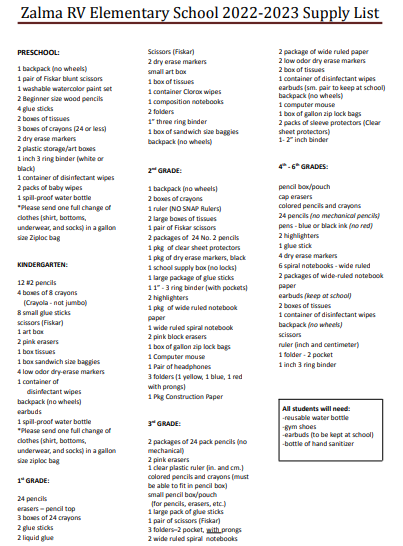 For all those who qualified for tomorrow's trip to Cape Splash, please remember to bring dry clothes, towel, sunscreen, and a bag for wet clothes.

Tomorrow's field trip to Wickliffe Mounds has once again been cancelled due the severe weather threat. Instead, we will be going to Cape West 14 Cinema in Cape to watch The Bad Guys at 10:00 a.m. Each student will also receive a soda and popcorn. If the weather cooperates, we will eat at the Cape County Park South. If not, we will return to school.

Due to unforeseen circumstances, Carol's bus will be running 15-20 minutes later than usual this afternoon. Please call the office if other arrangements need to be made for your child.

Elementary Summer School: Due to tomorrows forecasted weather conditions, the field trip to Wickliffe Mounds has been rescheduled for Wednesday, June 8th.

Thank you for your support!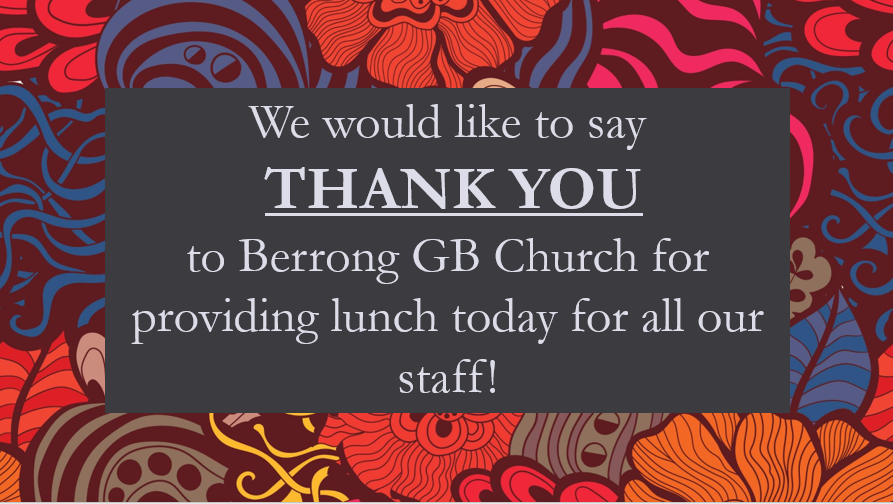 Zalma Elementary received a very special delivery today for Teacher Appreciation Week! Thank you Caleb, Emily and Allie for the beautiful flowers and cookies!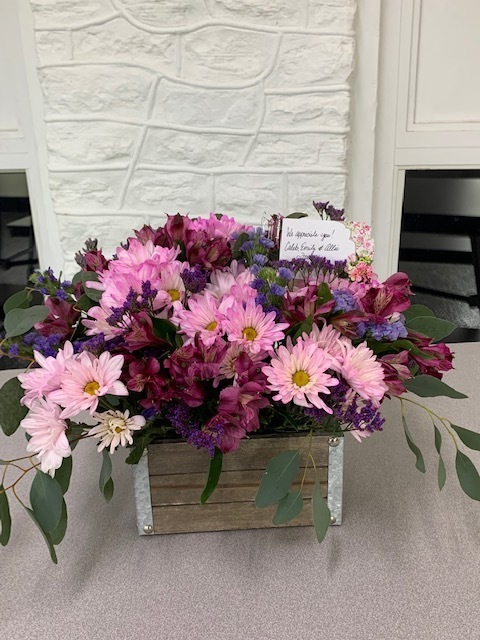 Elementary's Upcoming Events: -Kona Ice May 10 -MAP Testing through May 12th -Reading Fun Day May 16 -MAP Reward Trip May 17 -Last Day of School/KG Graduation May 19 -Summer School Begins May 23

Kona Ice will be at school the afternoon of Tuesday, May 10th!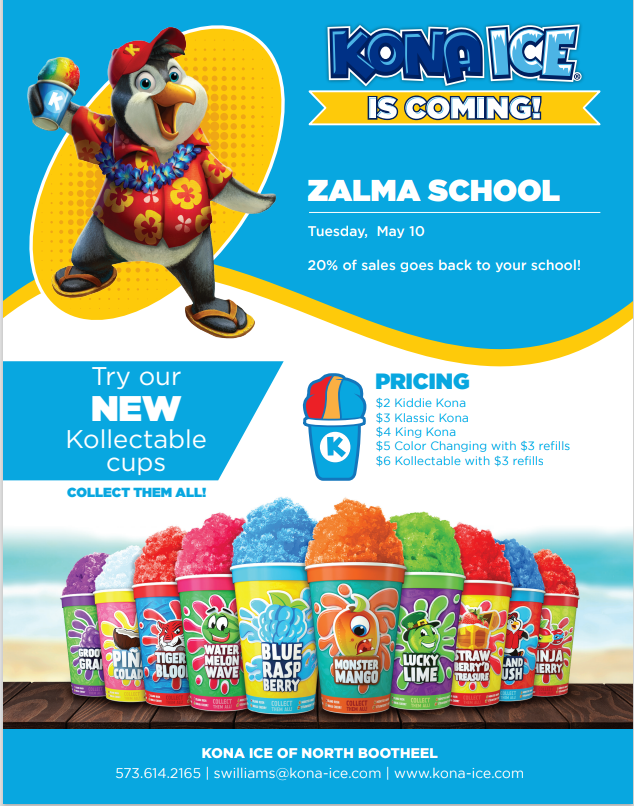 Elementary Student's of the Week April 11 and 19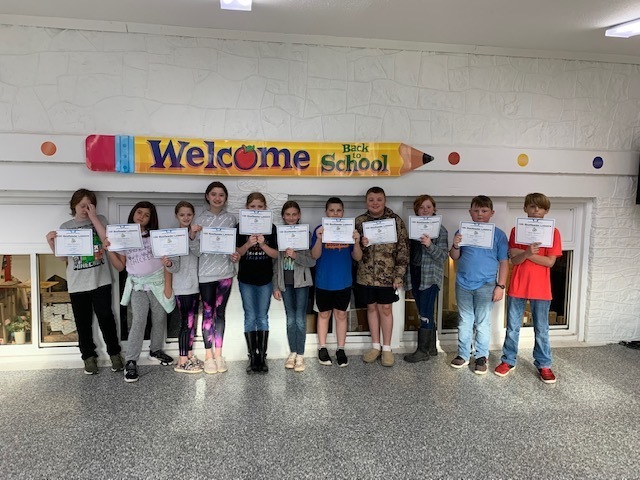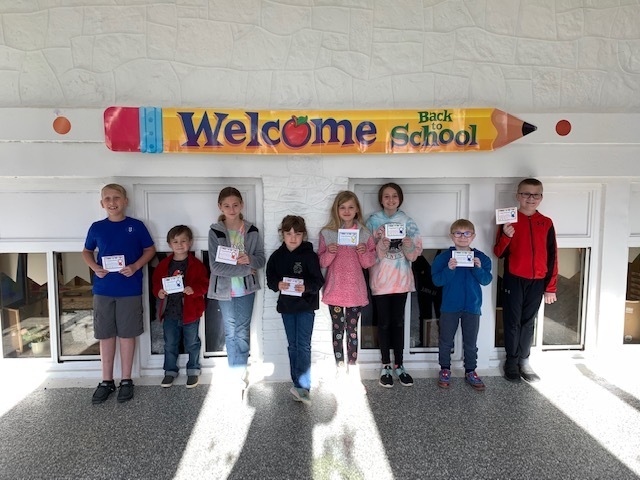 School will be dismissing today at 12:45 pm due to the severe storm threat.

Games and practices for Track and Baseball have been canceled for today due to weather.

Elementary Learning Fest 2022 will be Tuesday 5:30-7:00 p.m. We will have two egg hunts (5:45 and 6:30, please attend only one), pictures with the Easter Bunny as well as projects on display in all the classrooms. Mrs. Shelby will have artwork showcased in the cafeteria.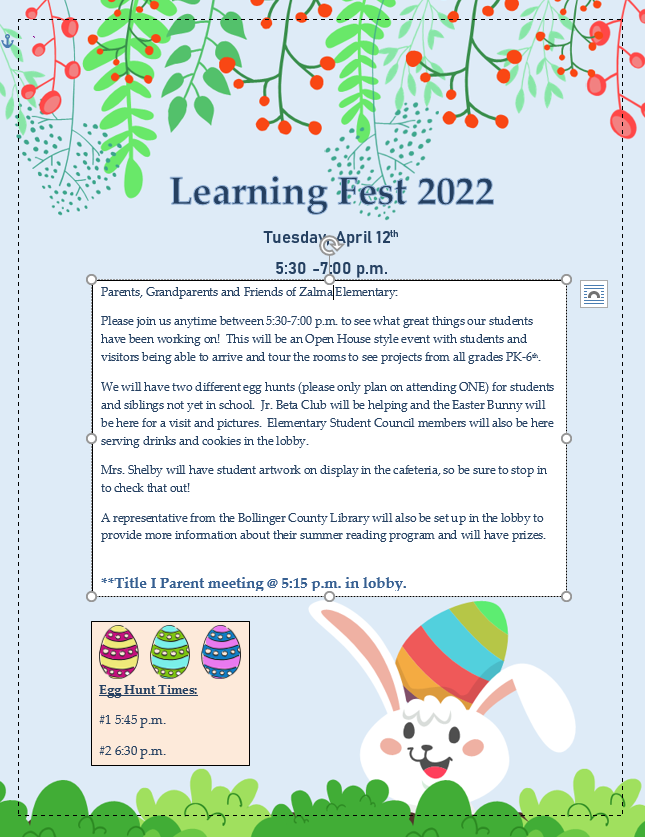 Because of the most recent storm updates, we have decided to dismiss school at 1:20 today to keep everyone safe. If you pick your child up from school and cannot make it by 1:20, please contact the office. Staff will be on campus until a parent can arrive.